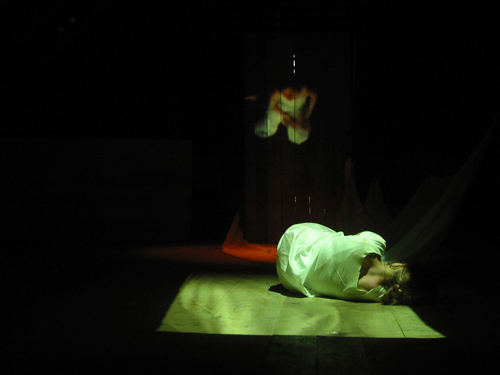 CESTA
Cultural Exchange Station in Tábor - www.cesta.cz
It is said that fear is the strongest emotion. Perhaps this is its only universal characteristic....
E.K.K.O spent the month of august 2006 in the Czech Republic in the city of Tábor, to participate in the 11th Arts Festival of International Interdisciplinary Collaborations at CESTA. Together with 30 other artists from all over the world we spent the month working around the theme - Sense of Fear.
The organizers of the festival had pre-grouped us with multimedia artist Lucy HG (US) based in Los Angeles and installation artist Angela Chong from Singapore – together we created the piece:
"Shallow of breath – racing in the mind.
It has to do with fear, I don´t know.
If someone scares you then you jump.
It all depends ..."
An interactive and immersive dance installation with integrated video and text.
Idea, concept and performance: Angela Chong (Singapore), Lucy H. G. (United States), Klara Elenius (Sweden) and Karina Dichov Lund (Denmark) of E.K.K.O
With Creative input: Emma Nordanfors (Sweden) of E.K.K.O
Video performance: Cat Jones (Australia)
Original music from: "Lambs Gamble Memory Collapse":George Cremaschi/ Fritz Welch, "They Were Gentle and Pretty Pigs":
George Cremaschi/ Greg Goodman/ Mats Gustafsson
English voice over: George Cremaschi
Translation and Czech voice over: Petra Podlahová
Thoughts on fear contributed: Carolina Bäckman (Sweden), Gabriella Grundemar (Sweden), Beben (Indonesia), Tze Pin Khar (Singapore), Kelvin Tan (Singapore), Gul Cagin (1st generation US/Turkey), Michael Sakamoto (3rd generation US/Japan), Eric Smail (US), Alvin Gregorio (2nd generation US/Philippines). Interviews in Singapore conducted by Ezzam Rahman, Ghazi Alquidcy, and Sazeli Jalal
Special thanks to:
Curtis Bila-Günther and CESTA: Hilary Binder, Christopher Rankin, George Cremaschi, Naomi Potter, Petra Podlahová
The piece was shown in Tábor august 2006 as part of the CESTA festival.
E.K.K.O´s stay at CESTA was supported by The Danish Arts Council and The Danish Ambassy in Czech Republique.