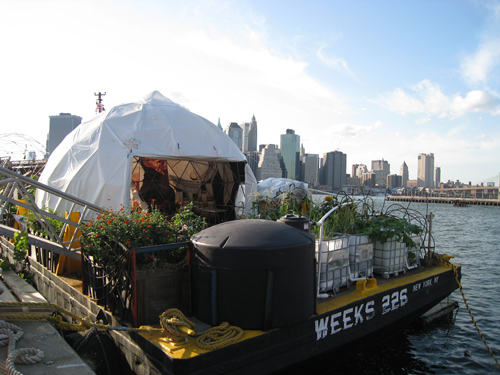 WATERWAYS was an international collaboration fusing creative methods of science, architecture, media, music and movement. This collaborative research culminated in a series of public actions surrounding the theme of water.
The WATERWAYS project's initial incubation period, which covered the week of August 9 to August 16 2009, took place on board The Waterpod, with the generous support of The Waterpod team.
The Waterpod was a floating eco-habitat designed by photographer and sculptor Mary Mattingly. The Waterpod docked different places around the city of New York from May through to October 2009.
We met and worked on board and it was of great inspiration to actually be on the water while working on this project about water.
We had a group of kids from a Brooklyn summer dance camp on board. We had designed different stations for them to go through. Every station was dealing with water and different aspects of it.
We said goodbye to The Waterpod with a sound installation of recorded water sounds from The Waterpod. We exhibited water samples from The Waterpods water system that were tested in our science station. We also made an interactive map where you could pin out the water system of the city. This was the end our first project week. It was a good week of getting to know each other and each other's working methods and fields.
For more detailed information about the work and development of WATERWAYS you can check out the WATERWAYS blog.
Also check out The Waterpod website.
WATERWAYS was under the umbrella of an iLAB residency, and further supported and funded by iLAND (= Interdisciplinary Laboratory for Art, Nature and Dance), The Danish Arts Council and The Danish Actors Association.