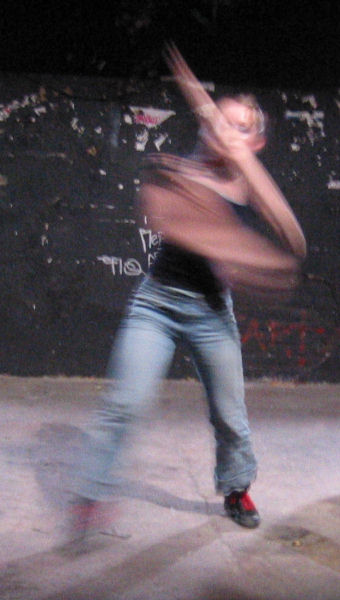 The performance ZOOM was E.K.K.O's first production, it premiered in Copenhagen, Denmark in October 2004.
ZOOM was inspired by the city and the passing moments you sense on your way trough the streets. ZOOM was a compressed city tour - Copenhagen seen with fresh eyes. ZOOM was the body mirroring the city - a choreographic collage where the impressions of the city are transformed into traces in a vigorous movement universe. ZOOM was a moving and fragmented image of the city.
Idea and choreography: The choreography collective E.K.K.O 
Dancers: Amia Miang, Camilla Skovgaard and Ellesiv Selseng
Understudy: Carolina Bäckman,
Musicians: Mark Solborg and Anders Banke
Voiceover: Benjamin Kitter
Set Design: Lisbeth Burian and Ida Marie Ellekilde
Light Design: Mikkel Jensen
Light technician:  Mads Nielsen
Sound Design: Jes Theede
Sound technician: Stefan Thorsson
Press Coordinator and Production Manager: Sidsel Nelund
Graphic designer: Lene Harbo Pedersen
ZOOM - EVENTS:
We invited other artists to join in on the performance nights and in that way every performance was prolonged with events of very different kinds, shapes and sizes. The list of guest artists who contributed to these events included visual artists, musicians, poets, video artists, DJ´s, performance artists, as well as other choreographers and dancers.
Participants in ZOOM - EVENTS:
Camilla Bachiry, Ingvild Grande, Stine Marie Jacobsen, Mark Solborg, Anders Banke, Henriette Groth,  Jacob Anderskov, Vagn Remme Sternberg, Maja Lucas, Sara Gebran, Gabriella Grundemar, Stine Marie Jacobsen, Jacob Remin, Tanja Stasia, Priscilla S. Rasmussen, Karoline Leth og Kamilla Wargo Brekling, Anahi Testa Pedersen, Ditte Haarløv Johnsen, Martin Køhler Jørgensen, Kristoffer Gansing, Linda Hilfing, Søren Skov, Askapot og Prinz Valium.
ZOOM was supported by:
Danmarks Nationalbanks Jubilæumsfond af 1968
ZOOM - EVENTS was supported by:
Workshop Scenen, Make Up Store, Ichinen, Bo Friis Dalsgaard/ Republik Weimar, Urtebaren Kaffadeli, Ymerdress, Vester Vov Vov, AT Frisør/ Poul-Erik and Statens Kunstråd.