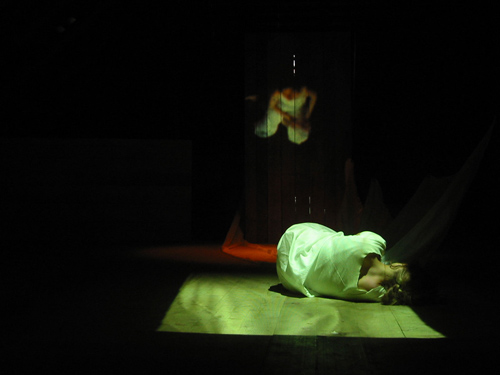 CESTA
Cultural Exchange Station in Tábor = CESTA
I august måned 2006 var E.K.K.O i byen Tábor i Tjekkiet.Vi deltog i en international festival for tværfaglige kunstneriske samarbejder på CESTA. I løbet af 4 uger arbejdede deltagerne fra mange dele af verden sammen i grupper omkring temaet "Sense of Fear ".
Vi samarbejdede med multimediekunstneren Lucy HG fra USA og installationskunstneren Angela Chong fra Singapore.
Sammen skabte vi danse-/videoinstallationen:
"Shallow of breath – racing in the mind.
It has to do with fear, I don´t know.
If someone scares you then you jump.
It all depends ..."
Musik og engelsk voice over: George Cremaschi
Tjekkisk voice over og oversættelse: Petra Podlahová.
Værket blev vist i Tábor.
I kraft af vores ophold på CESTA fik vi en enestående mulighed for at skabe kontakter med mennesker fra både USA, Asien og Europa, inden for et bredt kunstnerisk felt. Festivalen lå desuden i tråd med E.K.K.Os ønske om at skabe værker der er baseret på tværfagligt samarbejde.
Yderligere information om CESTA
http://www.cesta.cz/
cesta@mbox.vol.cz
E.K.K.Os ophold på CESTA var støttet af Kunstrådets Scenekunstudvalg og den Danske Ambassade i Tjekkiet.
______________________________________________________
"Sense of Fear" - Deltagende kunstnere
Paige Sorvillo (US)
Kanoko Nishi (JAP)
Isak Immanuel (US)
Liz Allbee (US)
Sherwood Chen (US)
Matt Warren (AUS)
Sally Rees (AUS)
Lena Marie Stuart (CAN)
Jean-Yves Thériault (CAN)
Gaby Bila-Günther (RO/AUS)
Stone (D)
Richard Ketner (CZ)
Stepán Jelínek (CZ)
Daniel Erný (CZ)
Martin Koktan (CZ)
Luigi Coppola (I)
Susan Hawkins (AUS)
Olivia Pisani (AUS)
Paulina Velazquez Solis (Costa Rica/Mexico)
Ruth Sergel (US)
Jo Cook (CAN/US)
Wesley Mulvin (CAN)
Peggy Diggs (US)
Angela Chong (Singapore)
Lucy H G (US)
E.K.K.O (S/DK)