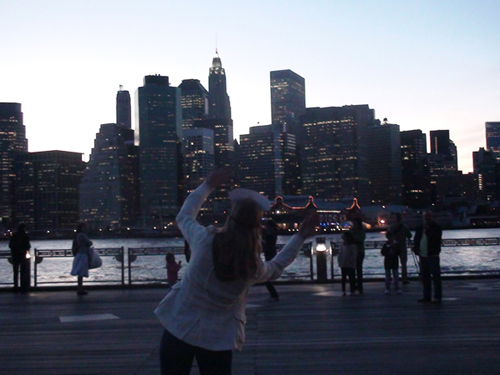 WATERWAYS præsenterede  sin tredje aktion: HARBOR MOVEMENT i forbindelse med D.U.M.B.O Art Under the Bridge Festivalen, d.25 – 27 oktober 2009
Seks mystiske kaptajner inviterede publikum ombord på en New York City Water Taxi. Turen startede under Brooklyn Bridge og i skumringen blev publikum taget på en koreograferet bådtur under broerne der forbinder Manhattan og Brooklyn. Bådens bevægelser og nærheden til East River forstærkedes gennem et soundscape af vandlyde fra bådens højtalere. Og udrustet med kikkerter havde man mulighed for at zoome ind på specifikke detaljer i bybilledet.
I HARBOR MOVEMENT medvirkede, foruden WATERWAYS kernegruppen, de tre dansere: Irene Hsi, Carmela Torchia, Christina Skovby.
Kort om WATERWAYS:
WATERWAYS var et site specific projekt der strakte sig over 3 måneder. Projektet involverede forskere, kunstnere og lokalbefolkning og udmundede i en række aktioner der alle omhandlede og tog udgangspunkt i vand. Du kan læse mere om WATERWAYS her.
Mere detaljeret information om WATERWAYS og hele arbejdsprocessen er at finde på projektets blog.
WATERWAYS var støttet af Aktualitetspuljen under Statens Kunstråds Scenekunstudvalg, Dansk Skuespillerforbund og den New York baserede organisation iLAND (=  Interdisciplinary Laboratory for Art, Nature and Dance).