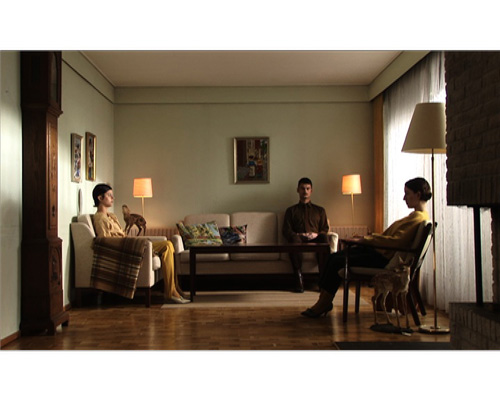 DANSEFILM - Længde: 15 min. 
Kig ind i et noget anspændt og dæmpet hjemme-univers med adresse et sted mellem drøm og hverdagsrealisme.
PRIS x 5
IMZ's Dance screen The Hague  2007.
Juryens motivering:
"The winning film is a fresh voice in screen dance making. It has stylish vision, a quirky treasure trove of sharply choreographed tableaux, oddly compelling performers and a tightly manicured filmic hand."
Cinedans 2007 i Amsterdam, Juryens pris.
Se Cinedans interview her.
Cosmic Zoom 2007, både Jurynens pris for bedste kortfilm og Publikumsprisen gik til INSYN.
Synthese, 2008, Bourges, Frankrig, 1. pris i multimediekategorien. Lyt til interview med kompositøren Stefan Klaverdal her. 
MEDVIRKENDE
Koreograf: Klara Elenius
Produktionsleder: Karina Dichov Lund
Dansere: Carolina Bäckman, Marie Schulz, Jonas Carlsson
Fotograf: Linus Eklund
Komponist: Stefan Klaverdal
Klipper: Jacob Remin
Scenograf: Zanna Wieveg
Scenografassistenter: Jonas Collin, Richard Szedelyi
Kostumier: Jenny Nordberg
Mask: Aida Stålnacke
Dramaturg: Elin Grinaker
Lystekniker: Martin Top Jacobsen
Steadycam: Malte Udsen
Mentor: David Hinton
STØTTET AF
Dansk Skuespillerforbund og Statens Kunstfond 
PRODUCERET AF
Statens Teaterskoles Efteruddannelse